Al-Unidos Liberations Chronicles
"Al-Unidos" is a combination of Arabic and Spanish and loosely means "The United." The nation of Al-Unidos was formed when California, Oregon, and Washington seceded from the United States of America to escape the regressive administration of the new president.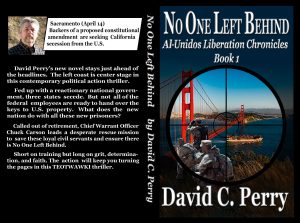 David C. Perry breaks into this genre with the same detailed and intricately researched backdrop details that he brought to American Naval History. Now he places you in the center of history as it is being made.
No One Left Behind is truly the just-in-time TEOTWAWKI political adventure for today. Fed up with intrusive meddling in their enlightened progressive society by a reactionary and regressive federal government, the three west coast states decide enough is enough. For a century they have made steady progress toward an inclusive and judgment-free culture. Now it could all be dismantled an unpredictable, conservative president and his cronies in Congress.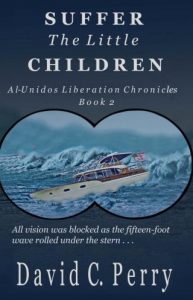 The suffering and violence continue in Book Two – Suffer the Little Children. So does the heroism. The new nation of Al-Unidos writes their own "Pledge of Allegiance" for their subjects:   "I declare my dependence on the collective and devote myself to the Commonwealth of Al-Unidos, the Rainbow State of Acceptance, Tolerance, and Inclusion. I embrace Diversity and Love for all organisms, decrying Hate in thought, word, and deed. This is my pledge before Mother Earth."
Pamela is a young mother when she and her family are abducted and taken to a remote forest camp by heartless marauders. Fantina is a family nanny trying to help her young charges survive in San Diego as ruthless Al-Unidos armies slowly close in on her world. Police Chief and former Marine Ted Cloaker is fighting a desperate battle in the rugged mountains east of San Diego to preserve the world he knows.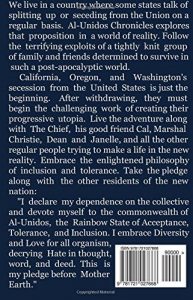 Follow the terrifying exploits of a tightly knit community of family and friends determined to survive in such a post-apocalyptic world. California, Oregon, and Washington's secession from the United States of America is just the beginning. After withdrawing, they must begin the difficult work of creating their progressive utopia.