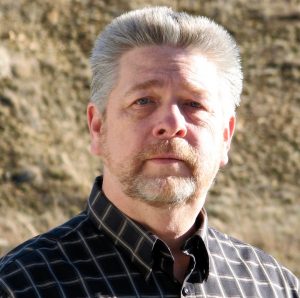 Dave has been an avid reader since his early teens, and distinctly remembers checking out and reading such books as Sink the Bismarck and Thirty Seconds over Tokyo from the Junior High library in Libby, Montana. Dave lived his preteen years in Seattle, Washington.
In 1970 he moved with his family to Libby, in Northwestern Montana. He graduated from Libby Senior High School before earning his Bachelor of Science Degree at the United States Naval Academy at Annapolis, Maryland. Four years of college and he took one creative writing class. He does remember getting a B in the class though, and still has a short story he wrote while taking it.
Dave now lives in Liberty Lake, Washington with his sweetheart and bride of over 35 years.
Nautical Fiction
Dave became hooked on nautical fiction during his second year at the Naval Academy. He has a clear memory of sitting in the back row of Physics class reading one of the Horatio Hornblower series of books by the genius writer, C. S. Forester. His friend and classmate, Eric Lum, leaned over to him and whispered, "You know, Dave, my roommate flunked out last year because of reading novels all the time." This did not deter him. He read the Hornblower series straight through. Next on the agenda was the Bolitho series by Alexander Kent.
Take The Plunge
After over forty years of avid reading, in 2013 Dave took the plunge. He published his first short story in September 2013, The USS Lexington and HMS Edward. He continues to write almost everyday. While Dave has a "day job" to pay the bills, he has discovered that researching and writing stories is great fun.
Now Dave is writing a new genre: End of the World / Political Thriller. Here is a picture of him with his good friend Cal, who is a character in the Al-Unidos Chronicles, which include No One Left Behind and Suffer the Little Children. Cal and his bride still live in Alaska, and they visit Washington state frequently. Dave had a lot of fun writing the personas of many good friends and relatives into this latest story.
Complete This SHORT Form to keep up with Dave's work.