You Guessed It – He was a Marine
Have you ever asked yourself who was the American Revolutionary hero Matthew Parke? Okay, probably not unless you are a student of eighteenth century American history. The answer to this question is answered in Marines in the Revolution, a book that was written by Charles R. Smith in 1975 for the History and Museums Division of the United States Marine Corps. The book aided greatly in my research for First to Fight.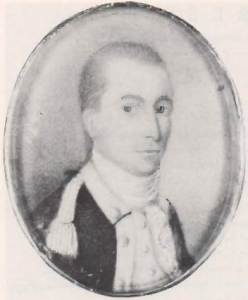 Matthew Parke was born in 1746 near Ipswich. England. It is recorded in First to Fight that his grandfather served as aide to the Duke of Marlborough while a British Army colonel. Later he held the post of Governor of the Windward Islands. During or after that posting, he went to Virginia and took Matthew with him. That is where the reader meets Matthew in my book.
There is a gap in the historical record, but probably moved to Philadelphia. He popped up there on November 28, 1775, when he was commissioned a first lieutenant of Marines. He was ordered to the Continental Frigate Alfred where he served in Captain Samuel Nicholas' company. The famous naval officer, John Paul Jones, was Navy first lieutenant on Alfred.
Parke Becomes Revolutionary Hero Matthew Parke
His first cruise was under command of Commodore Esek Hopkins, whose squadron captured New Providence, on Nassau in the Bahamas. On 6 April 1776, Alfred, the Brig Cabot, and others ships in the squadron engaged the British Frigate Glasgow in Block Island Sound. Parke was uninjured, but a Marine lieutenant was killed in the sea battle.
Captain Parke's career in the Continental Marines and then the United States Marines saw many commands. After Alfred, he served on:
Columbus
Ranger
Deane
Alliance (under the notorious Captain Landais, who Parke later arrested)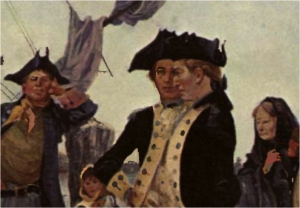 On August 15, 1781, Captain Parke wed Judith Cooper. By this time he was still serving Alliance, but under Navy Captain John Barry.
In September 1782, Parke and some other officers left the frigate over a dispute about prize money (pay for ship's captured). Captain Barry claimed he did not have the funds to cover the debt and left the officers in L'Orient, France when he sailed for America. Parke was found guilty of disobeying orders at his court martial in Philadelphia in 1783. But the court also praised his long, illustrious career to Congress.
Seventeen years after he married his second wife, Jane English, Captain Matthew Parke died in Boston in 1813.
Read much more about his life and exploits in First to Fight.