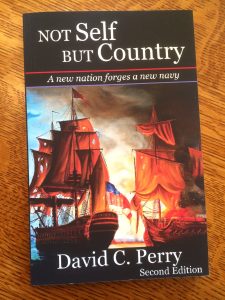 Dave's goal in writing his first series of novels is that American history comes alive. His characters are almost exclusively based on the true heroes and villains that wrestled the United States away from Mother England. The first novel Dave wrote is Not Self but Country. It is the story of the beginning of the American Revolution, focusing on events at sea. Its emphasis is the origin and exploits of the fledgeling Colonial Navy. [SIGN UP FOR NEWSLETTER]
This Book is on Amazon
"Not Self but Country" was Dave's first book in exciting series telling the story of the infant US Navy.
"Not Self but Country", a story of the men who sailed into battle against the mighty British Navy, opens when John Paul Jones was a youth. In their smaller, often obsolete vessels converted from merchant ships of the day, men with names such as John Barry, Richard Dale, and John Paul Jones, sallied forth to challenge the Goliath of the British Navy.
You can experience the exploits of these men. At sea aboard a fragile wooden sailing ship of the Continental Navy, you find yourself fighting desperate battles against the world's largest and most powerful Navy, Great Britain. Cover your ears! Cannons are firing everywhere—you cough on the pungent smoke, dodging and ducking as jagged oak splinters cartwheel past your eyes.
There is nonstop action in this exciting new book. EXTRA BONUS – CONTAINS NAUTICAL TERM DICTIONARY AND CHARACTER BIOGRAPHIES.
This is where American history comes alive.
The Characters Are Real People, Showing that American History Comes Alive
Allow me to introduce some of the characters from this period that gave birth to the United States.
Farragut, Jordi (Gorge, also George)
From Menorca, Spain, Farragut served in the South Carolina Navy and later the South Carolina cavalry at the Battle of Cowpens. He sired America's first admiral: David Glasgow Farragut. The author could find no record that he was the First lieutenant aboard Notre Dame; however, he was in the SC Navy as a Lieutenant during this time and could have held this post according to research conducted by the author.
Gillon, Alexander
Gillon was born in Rotterdam, Holland in 1741. His parents were Scottish. A well-to-do sea captain, he served early in the American Revolution as an army officer, and then as Commodore of the South Carolina Navy. Gillon died on October 6, 1794 and was buried on his plantation, Gillon's Retreat, in South Carolina.
Landais, Pierre
Admiral Landais was born in 1731 in Saint-Malo, France. He served in the French Navy and was a combat veteran of the Seven Years War. He as commissioned a Captain in the United States Navy by Congress and given command of Alliance frigate, which ship, ostensibly, suffered two mutinies under his command. Commodore Jones and Doctor Franklin both opposed his command, but were forced to accept his participation in the famous Battle of Flamborough Head between Bonhomme Richard and Serapis. After being dismissed from service in the US Navy, Landais rose to the rank of Rear Admiral in the French Navy. Ultimately, he died in New York on September 17, 1820.
Matthewman, Luke
He was first lieutenant on Lexington under John Barry. He later commanded a Pennsylvania armed brig privateer, the Schuykill.
Mayrant, John
John Mayrant was born December 1762 and orphaned at the approximate age of ten years. Mayrant was an officer in the South Carolina Navy and later the United States Navy. He traveled to Cuba aboard the South Carolina sloop Notre Dame with Commodore Gillon and later served aboard Bonhomme Richard during its battle with the Serapis.
Morris, Robert
A magnanimous character who was born in England in 1734. Immigrating to the Chesapeake Bay in 1744, Robert Morris was a man of extreme wealth and exemplary integrity during the American revolutionary period. Although he was neither soldier nor sailor, his role was crucial to the success of the War against England, as well as placing the new United States on a firm footing in the world. In the author's estimation, he almost single-handedly financed the Revolutionary War. Thereafter, he saw to the establishment of the Bank of the United States. Due to his extreme sacrifice, he actually spent time in debtors' prison after the war."
Excerpt From: David C. Perry. "Not Self but Country." iBooks.
Book Review from Retired Admiral!
"If you only read one book about the beginning of the United States Navy, Not Self but Country is it. Dave Perry expertly weaves an exciting and suspenseful story about the early days of the Navy and its heroes such as Captain John Barry, John Paul Jones, and Richard Dale. Bringing these leaders to life with a cast of superb supporting characters, provides an insight into our nation's history and the traditions and customs that are still observed daily aboard Navy ships around the world."
—Rear Admiral Greg Nosal, United States Navy Retired
 Five Star Customer Review
Not Self but Country, author David C. Perry's 1st novel is a story of the early years of America's fledgling navy as it struggled in a sea of colonial as well as individual colony interests that included those political, economic and certainly personal. A story laid down chronologically beginning in 1756 with the introduction of Richard Dale and taking pause in 1779 as that same Richard Dale, as 1st lieutenant of Bonhomme Richard watches from the deck of American prize HMS Sarapis as his late and victorious ship slips beneath the waves with her ensign proudly flying. I say "taking pause" as the author has told us that this is but the 1st novel in a series to be continued later this year.
The real story is certainly an interesting one in itself and is enriched by author Perry's diligent research and skillful weaving of fiction with documented facts that provide a seamless and entertaining adventure. To be mentioned as well in this 'new age' of kindle reading is the excellent technical and literary editing and proofing. It all comes together in that historical battle that places John Paul Jones on a level with "the greats" of that Age of Sail. I can say with some assurance that though 'you may think' that you know the story of this battle, you've never seen it unfold in such detail as you will in Not Self but Country. It is a very credible '1st novel' and certainly worthy of a successor which I now await.
-Eighty Winters, Amazon Customer
Enjoy
If you happen to pick up a Kindle or paperback copy and read this story, please be sure to tell Dave what you think. Remember, Dave's books are where American history comes alive!